Our Lady of Peace Family of Parishes:
Pastor: Rev. Paul Gebhardt 513-539-8061
Sr. Parochial Vicar: Rev. John Civille 513-422-0602
Parochial Vicar: Rev. Stephen Lattner, OSB
(click on parish name below for website/bulletins)
Beacons of Light Parish Families - Archdiocese of Cincinnati (catholicaoc.org)
Dear Holy Name of Jesus Parishioners,
I have been told there are many rumors not just floating around the parish but that the parish is awash in them.  I have not communicated any new developments to you because there are no new developments to communicate.  Holy Name of Jesus is not closing. PERIOD! 
To read Fr. Paul's full letter click here.
To receive the full letter in print form, copies will be left in the pamphlet racks in the church.
Lenten Fish Fry
Holy Name of Jesus Catholic Church  |  222 Hamilton Ave  |  Trenton, Ohio
Stop by for a great "catch" in the Parish Hall
February, March 31- (last Fish Fry)
5:00 – 7:00pm
Suggested donation
Adults $15.00       Children 10 and under $6.00   (5 and under free)
Menu:
Baked or Breaded Fish      Green Beans
Baked Potatoes      Hush Puppies      Mac & Cheese
Cole Slaw       Applesauce      Rolls
Lemonade     Tea     Coffee
Desserts
Take Out Available
Stations of the Cross will begin at 7:30pm
 Mass and Confession Schedule for
Our Lady of Peace Family of Parishes:
Holy Name, Our Lady of Sorrows and Holy Family Churches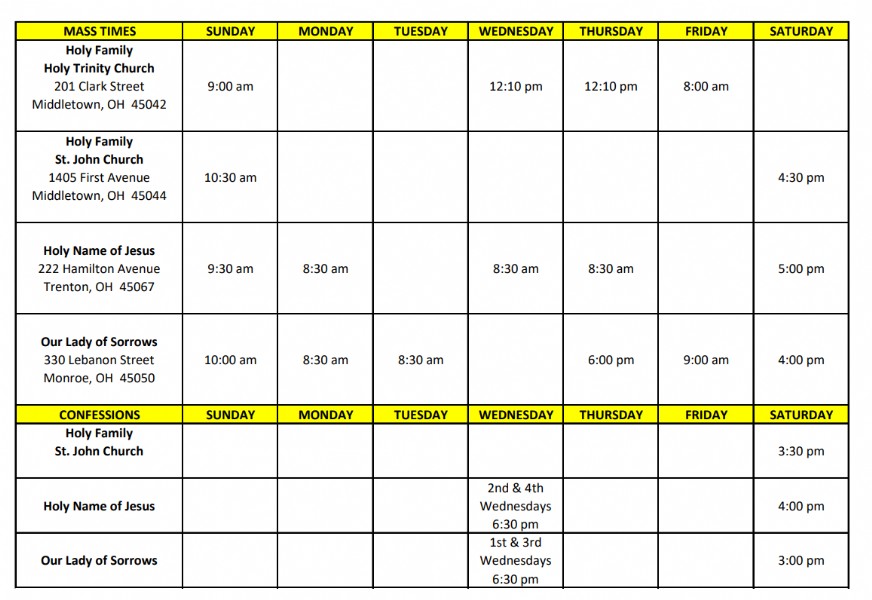 You Can Help Your Marriage – Do you feel alone?  Are you frustrated or angry with each other?  Do you argue… or have you just stopped talking to each other?  Does talking about it only make it worse?  Retrouvaille (pronounced retro-vi with a long i) helps couples through difficult times in their marriages.  This program has helped 10's of 1000's of couples experiencing difficulties in their marriage.  For confidential information about or to register for the April 2023 program beginning with a weekend on April 14, 15, 16 2023, call 513-486-6222 or visit the web site at www.HelpOurMarriage.com
Do you have religious articles that you want to share with others - Rosaries, prayer cards (not memorial cards), books, medals, etc?  Sometimes we find these items when a relative or friend passes away, or we receive them in the mail with mission appeals.  The Notre Dame Tabernacle Society accepts religious articles and sends them to missionary priests, in poor areas, who request them to give to their congregations.  The Tabernacle Society is also in serious need of additional volunteer sewers. New sewers will be greatly welcomed to join the ministry.  You may view our website NotreDameTabernacleSociety.org for more information about our ministry, and to learn how you might use your talents to help spread the Gospel, and allow unlimited graces to flow your way!  Please contact ndts2009@yahoo.com or call 513-708-7163 to plan a visit."